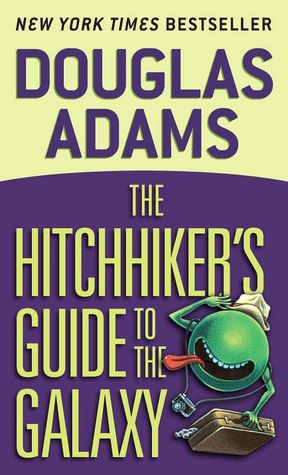 The Hitchhiker's Guide to the Galaxy
is one of those books that I felt obligated to read. It's on every SciFi list. Most of the CPAAGers love it. It glares at me from shelves of Barnes and Nobles.
In short, I was going to have to read it whether I liked it or not.
Thankfully, I liked it. No, actually I
loved
it! I first downloaded the ebook from my library, but very quickly discovered that the wonderful Stephen Fry narrated the audio version. As quick as I could, I traded versions, and then gleefully waited for the start of the Ravellenic Games. The anticipation was
killing
me. Not because all of these people loved the book, but because I got to listen to hours of Stephen Fry speaking. That man's voice is second only to Alan Rickman in my mind.
About five minutes in and I was completely hooked. I adored Arthur Dent. I liked Ford Prefect. I didn't quite enjoy Zap but I'll take what I can get. The concept was so interesting and well executed that I couldn't stop listening. It was a bit difficult to understand in some places (especially when it came to the Ultimate Question. I think that may have been because I was listening, rather than reading the page), but just how overwhelmingly funny it was more than made up for it.
I can not wait to read the next volume!
(4/5 stars)