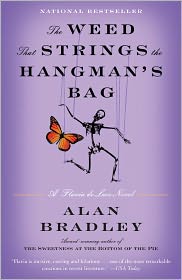 Well, this was certainly a big step away from my usual reading material.I know I keep saying I've been disappointed in the books I've been reading. I've got to stop that.
The Weed That Strings the Hangman's Bag
was a great sequel to The Sweetness At The Bottom of the Pie.
I'm not going to lie- I applied for a library card in Oklahoma specifically so I could have access to this audiobook.
It was so worth it. While I definitely wasn't as engaged as I was with the first book, I think a lot of that had to do with the fact that I've had a really stressful week, and I've had to pick it up and set it down more often than I like. That's one of the advantages of paper books that I really don't think will ever go away. With a paper book, I find it so easy to curl up somewhere comfy and just read until I finish. I get so involved in the stories that interruptions don't even phase me. With audiobooks and, to a lesser extent, e-books, I don't get as drawn in as easily, so I set them down more often, which leads to me continuing to not be as engaged. It's a never ending cycle. Really, what I
should
be doing (and what I did when listening to the first book in this series) is listen while I'm at the gym. Hey, it's killing two birds with one stone! The only problem with that is my utter inability to motivate myself to actually
go
.
Either way, I enjoyed this book. Flavia's character is still full of the precocious adorableness that drew me in the first time. While the murder took a longer time to occur (half the book from my estimation), the murderer and exact details were unexpected enough to surprise me when they all came out. I particularly enjoyed the introduction of Ophelia's potential suitors, it really helped me feel like the de Luces were a real family. However, I felt marijuana subplot was not developed as well as it should have been. Because it was almost thrown in there without any real delving into, I almost felt it unnecessary. It was almost as if the author was using a cameo or token plot line. That's just a tiny nitpick of an overall, wonderful book.
This is definitely a thumbs up in my book, and I already have the sequel geared up in my reading queue!
(4/5 stars)