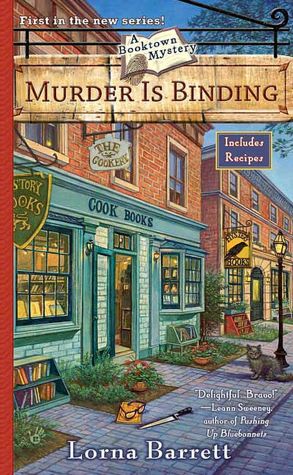 Murder is Binding
was a rather... interesting book for me to listen to. When I first stumbled across the concept, I adored it. A mystery book store owner solving a murder? How quaint! I quickly became bogged down in the actual book, unfortunately. I'm not sure if it was just my difficulty in relaxing into to the narration, or the writing, however.
Every time the narrator started to speak in anyone's voice other than Tricia, I felt myself wince. Angela became obnoxious to listen to, even though I felt that she was the most funny and interesting character by the close of the book. The male characters were similarly hard to listen to due to the narration.
In terms of writing, I felt that the author was... stilted at first, and didn't really hit her stride until the concept of Grace Harris' mistreatment was introduced. In fact, I had a hard time even convincing myself to play the book until that point. Once Grace was introduced, I was absolutely hooked.
I think my main problems with this book (apart from the quality of the audiobook. I'm still trying to understand why there was music that should have been featured in a play at the very beginning and end. It totally drew me out of the narration), were issues associated with the introduction of a new series. In a simple cozy mystery, I expect to have issues with characterization and world building when the writer is settling in, and this book was no stranger to these problems. They weren't, however, enough to significantly lessen my enjoyment. I absolutely loved the setting, and the mystery was interesting and not entirely predictable. The ending really sealed the deal in terms of my interest in the book. While I didn't see it coming, it wasn't so far out of reach that I felt it wholly implausible. I can't wait to listen to the next book in the series because I have a feeling it will be even better.
The high points of these books, besides the concept of BookTown (I so want to vacation there), was the introduction of interesting characters such as Angela and Mr. Everett, both of whom I'd love to take to lunch. Tricia herself was more of a shell of a character in this book, and I'm really hoping to see her develop more characteristics other than a grudging love for her sister. I was displeased that the ineptitude of the Sheriff wasn't addressed at the end, as I felt that it was highly unrealistic and I'm curious to see how it is handled in future books. All in all, I think this looks like the start of a great series!
(4/5 stars)